Imhotep
fl. 2667 BCE – 2600 BCE
Imhotep was an ancient Egyptian genius – a brilliant architect, mathematician, physician, astrologer, poet, priest, and Chief Minister to Pharaoh Djoser. Imhotep's name means "the One Who Comes in Peace." Although he was born a commoner, Imhotep rose to become King Djoser's vizier and was in charge of building Djoser's tomb at Saqqara. Rather than constructing a regular mastaba, or bench-shaped tomb, Imhotep chose to stack several mastabas on top of each other to create the famous Step Pyramid. Imhotep's high standing in Djoser's court is affirmed by an unprecedented honor - an inscription bearing his name on a statue of Djoser found at the site of the Ṣaqqara pyramid.
Imhotep was worshipped as a deity after his death, in Egypt's Late Period and in classical times up until the seventh century CE. Temples and shrines dedicated to Imhotep were built in Memphis and Philae, where the wounded and ill would sleep in hopes that Imhotep would reveal a cure to them in their dreams. Imhotep was associated with the Egyptian god Thoth and the Greek god Asclepius, both of whom were gods of medicine and wisdom. While there is debate about how much and what kind of medicine he practiced in his lifetime, some contemporary scholars have attributed the founding of modern medicine not to the famous Greek physician Hippocrates, but to Imhotep instead.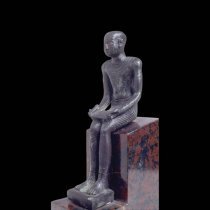 ---
Image: RC 1507 Imhotep Votive Figure at the Rosicrucian Egyptian Museum.
http://www.bbc.co.uk/history/historic_figures/imhotep.shtml
https://www.britannica.com/biography/Imhotep
https://www.louvre.fr/en/oeuvre-notices/imhotep-wise-deified
http://www.notablebiographies.com/Ho-Jo/Imhotep.html
http://www.telegraph.co.uk/news/science/science-news/3293164/How-Imhotep-gave-us-medicine.html